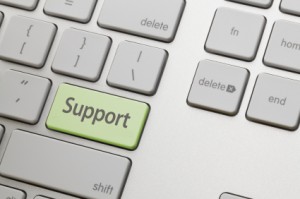 I suspect that a vast majority of readers have a personal story to tell about a frustrating experience in trying to obtain tech support from a notable vendor. One would think that companies such as PayPal or Skype should have the resources to provide immediate, on-demand support to their users at any point in time. However, most will agree that dealing with such "corporate giants" can sometimes turn into a frustrating task.
At Techinline, we understand the importance of providing timely and effective support, and strive to turn this aspect into one of our top competitive advantages. I would like to summarize Techinline's support policies along with the various "channels" that our users may take advantage of in order to get a hold of Techinline whenever needed.
First and foremost, Techinline is a "real" company, which implies that we have real people here to assist you with any tech or sales-related matter throughout the day. We have staff based in both North America and Europe, which allows us to cover most of the global time-zones and address clients' issues as they arise.
Our email ticketing system is constantly monitored, and you're guaranteed an answer to any email query within 24 hours of submission. Furthermore, roughly 85% of all tickets are responded to within an hour of submission. If you don't receive a reply from our staff within 24 hours, chances are that it may have been filtered into your spam or junk folder. Please note that we have phone support that will allow you to receive an update on a submitted ticket.
If you have an urgent matter or simply would prefer to avoid exchanging emails, we're always happy to assist by phone or Skype. Although we cannot guarantee that our Level 1 support personnel would be able to immediately solve complex tech matters over the phone, such issues will be immediately escalated to our Development Lab which will be responsible for providing corresponding troubleshooting instructions or a "work-around" to the encountered issue. All other matters (i.e. login resets, password recoveries, sales and/or product related queries) are immediately handled over the phone.
We make a constant effort to stay above the competition when it comes to communicating with and support existing or potential clients. Therefore, we urge you to take advantage of our available contact channels.
Apart from solving your issue, we're able to collect valuable feedback that will allow us to further enhance Techinline's performance and functionality as we move forward in our development and growth. Therefore, a high level of customer service at Techinline is a "win-win" situation for all parties involved.
Register now for a fully featured 15-day free trial of Techinline